2021 was really great for us, we logged record sign ups across all user types and have had very positive feedback from clients and artists.
SIGNUPS
By the end of April 2021, we had gone from just 300 voices at the start of the year to a thousand, and by year end, more than doubled it to 2464, a massive 820% increase.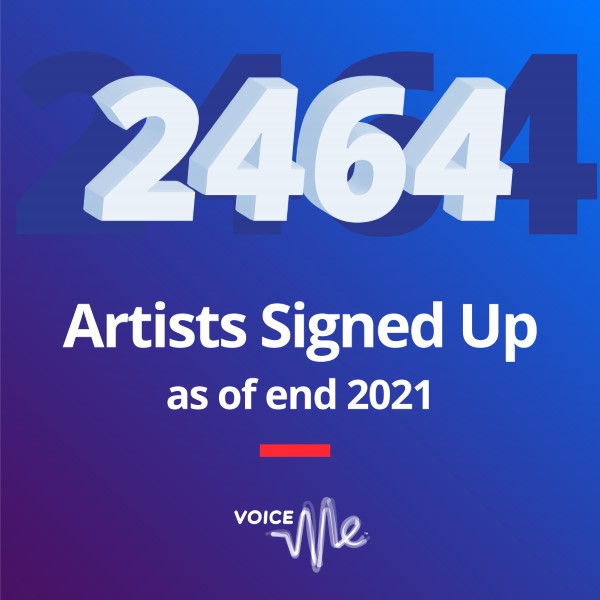 Client and Recording Studio signups went up as well, starting off at 77 and ending up at 319 total by year end. 271 Clients have signed up and 48 Recording Studios since our launch.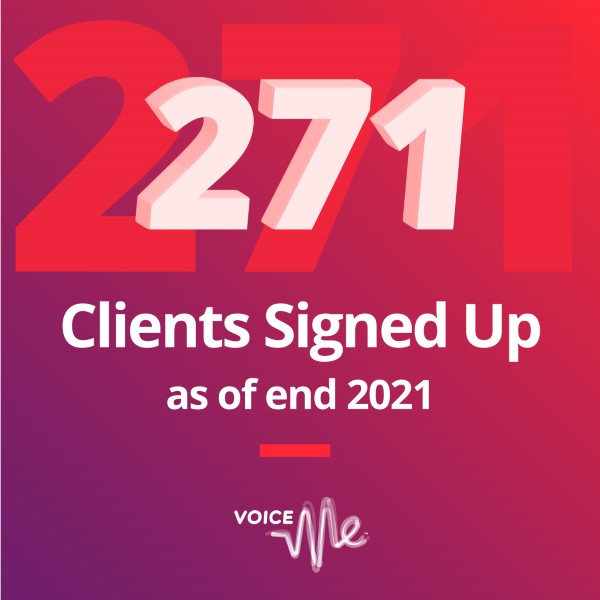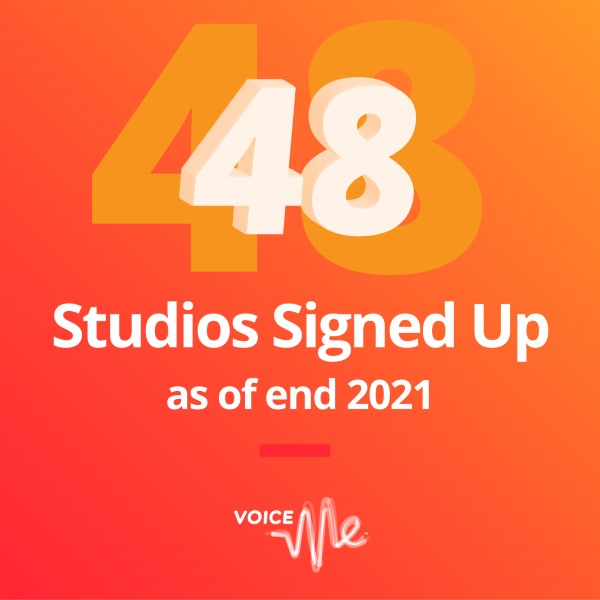 SOCIAL MEDIA
Throughout the year, we profiled voice talent that had subscribed to our Premium Artist Subscription on Social Media through the "Meet The Voice" series. In 2022, we plan to keep this going. Want to get in on the action? Subscribe to Premium, and we'll be in touch to discuss your post!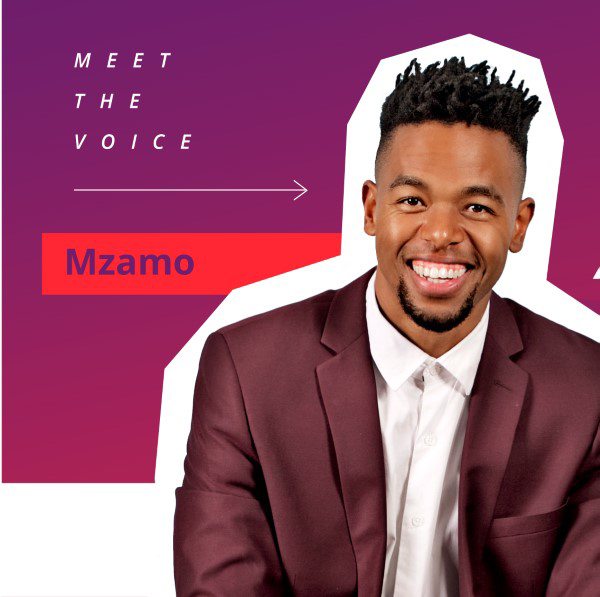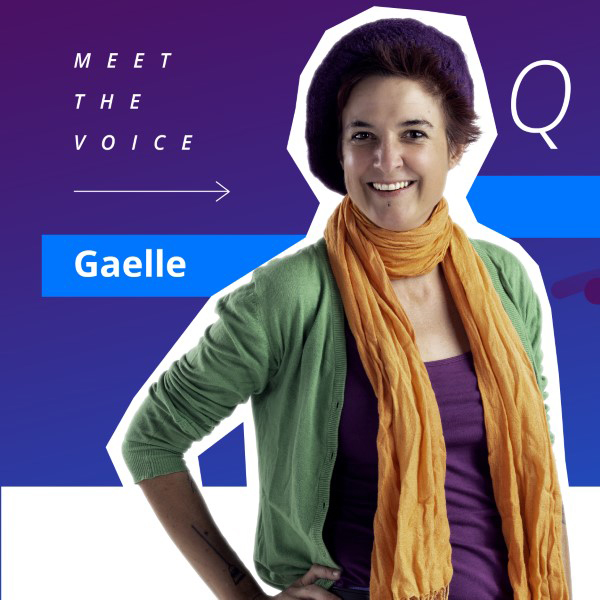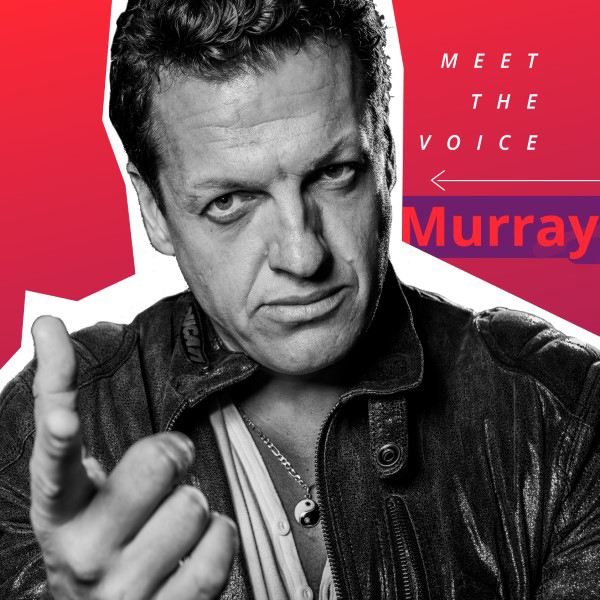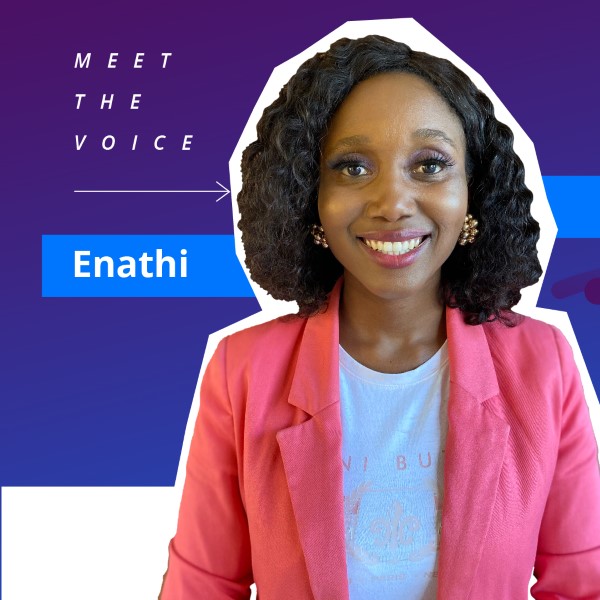 NEW FEATURES
In July, we added a new Quote Request Feature to Artist Profiles, to help voice seekers get in touch with artists and talent agents quicker with relevant project info. This resulted in more clients, finding more voices, and it showed in our search logs. Need tips on quoting, check out our article on 7 Essentials To Get A Voice Over Quote.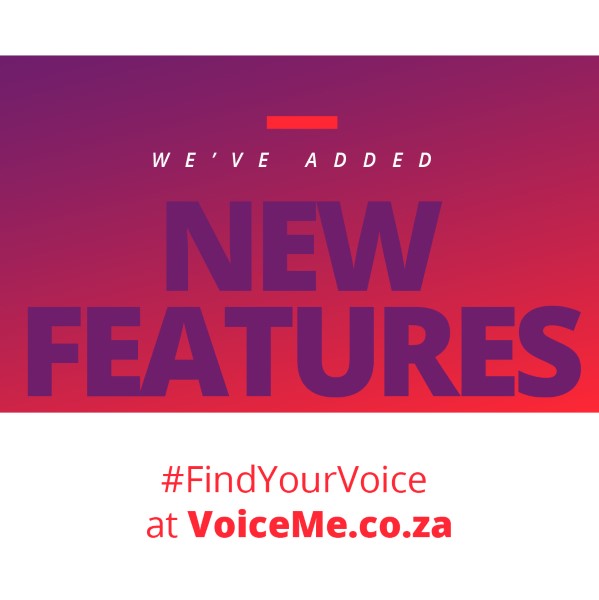 1217 searches were done last year, resulting in 131 quote requests going out to artists on the site, with 12 trackable bookings made through our VoiceMe Projects system.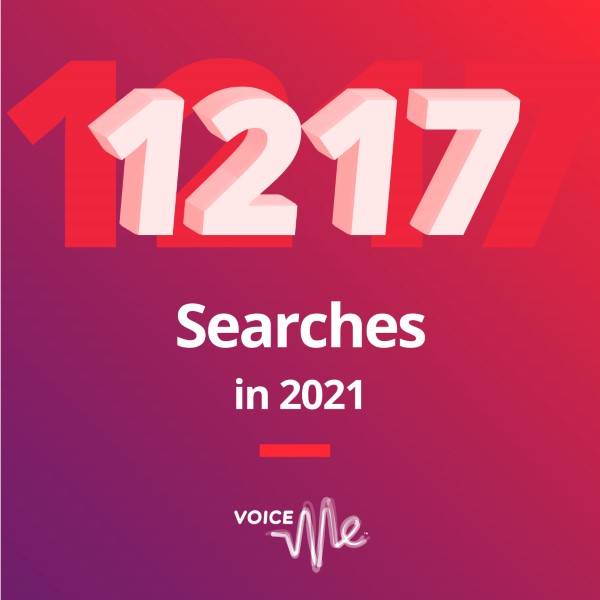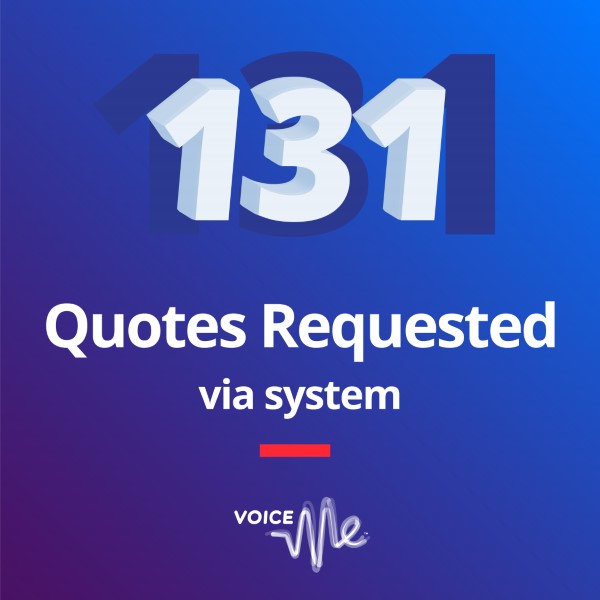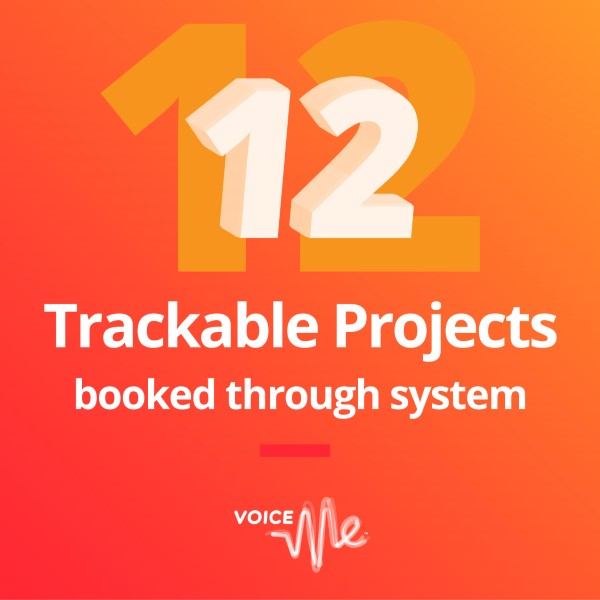 In November, we added Artist Search Mode to the CastEngine, complementing our existing Demo Search Mode, allowing clients to find voice talent that fit their requirements, but didn't necessarily have a demo clip for it on the platform. Clients could then request a quote and a sample from artists they liked, and audition them for projects.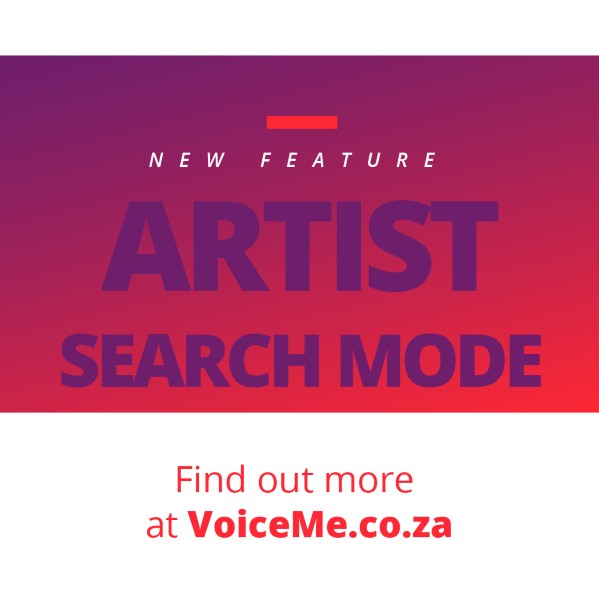 We also added Non-Binary to our gender search options in an effort to be more globally inclusive. As far as we know, we are only one of two casting sites in the world to have this option.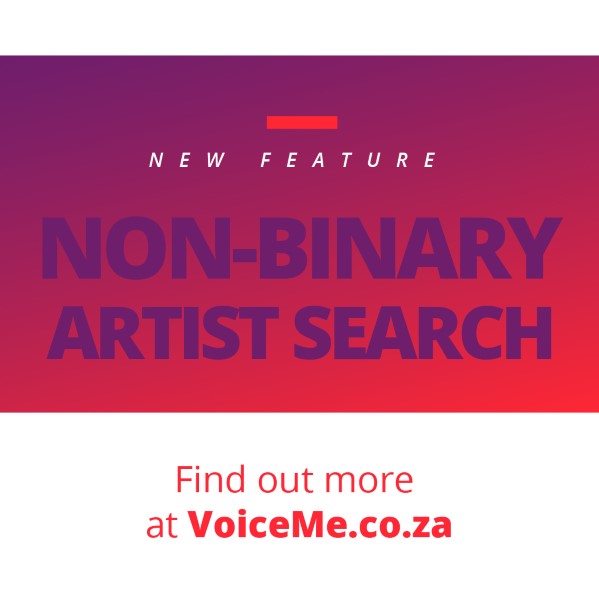 And now on to some statistics!
Genders Searched in 2021. 22% of all searches had no preference, 39% of clients were looking for Male voices, and 38% for Female. Non-Binary searches came in at 1%.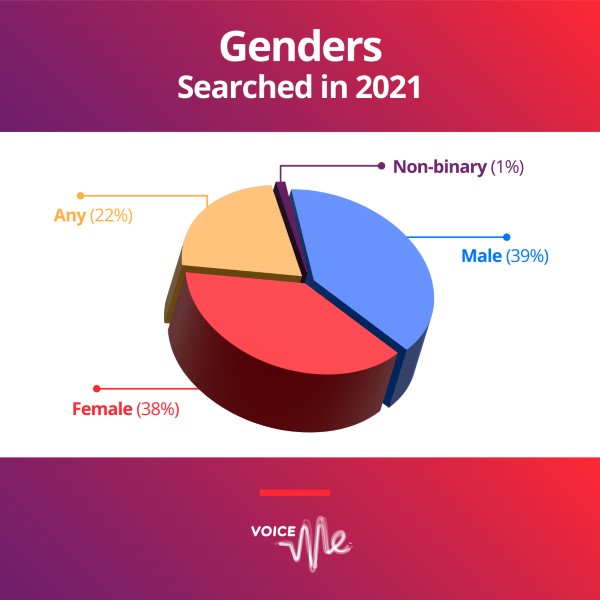 The Top 5 Languages Searched on VoiceMe in 2021 were English (80%), Afrikaans (6%), Xhosa (3%), Zulu (3%) and Tswana (2%).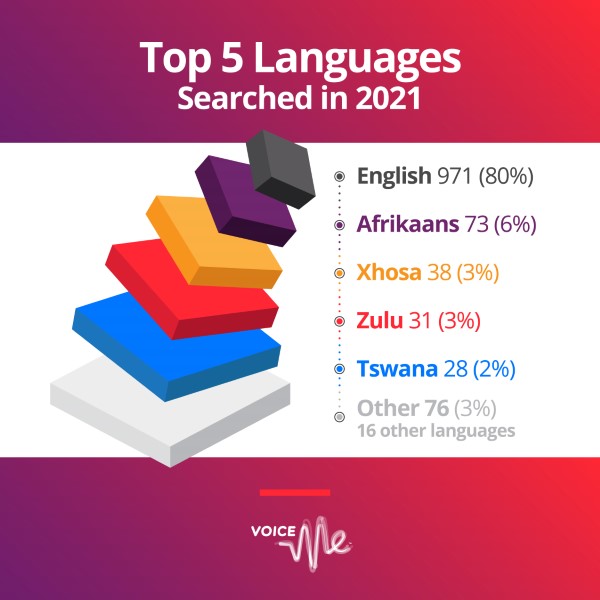 Top Accents Searched was no surprise for our main South African market. "Any Accent" dominated searches, with "South African" and "African" following as preferred client choices. British and North American accents were less popular but still made it into our top 5.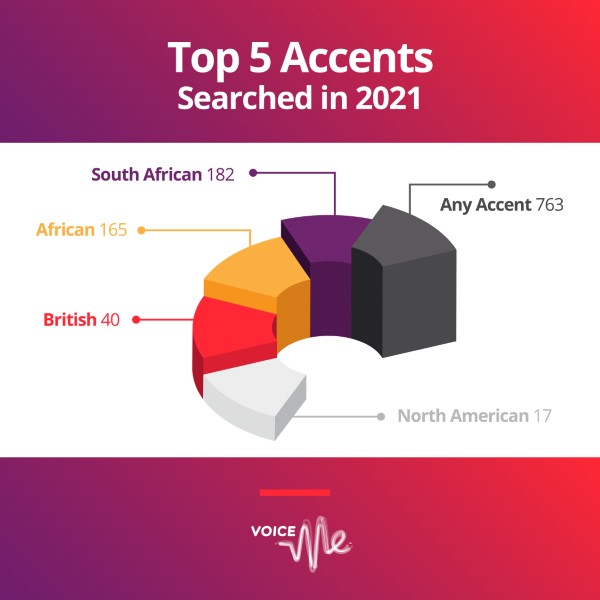 Ethnicities Searched favoured African talent, accounting for 38% of all searches. European (White) talent followed at 22%, with clients having no ethnicity preference at all in 12% of all searches. Cape Coloured, Indian, Asian and Hispanic/Latino ethnicities were searched less than 10% of the time.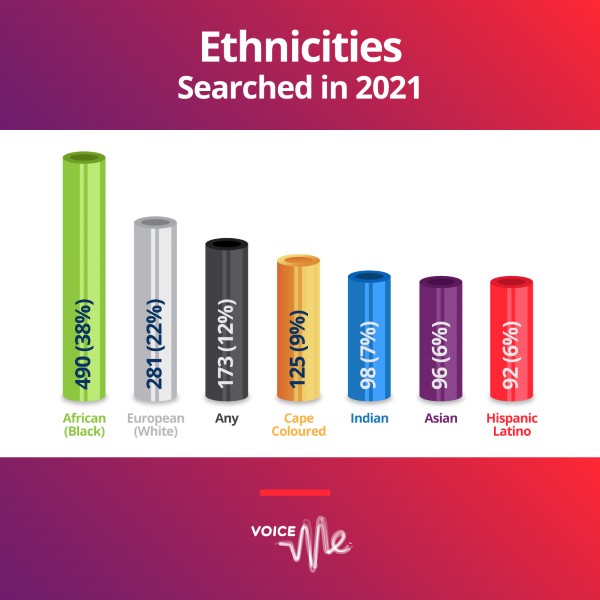 The Most Popular Vocal Ranges were adults aged 26-35, 36-45, 19-25 and 46-55 years respectively, accounting for a total of 73% of all searches. Senior voices (55 years and older) as well as Teens and Children made up the remaining 27%.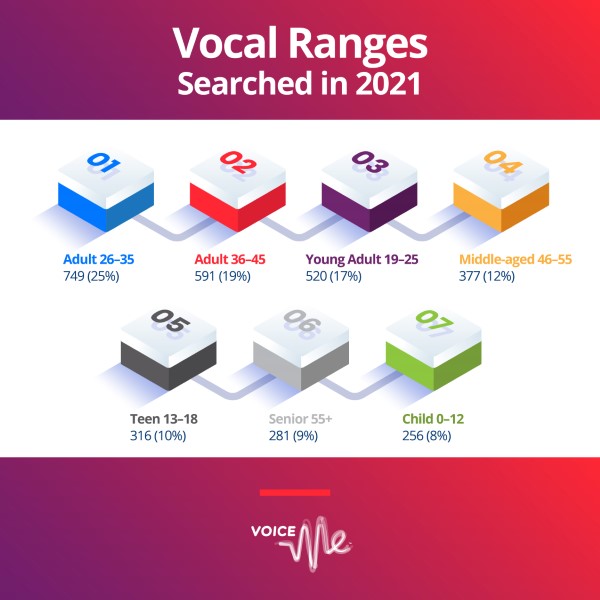 Our Top Searched Voice Categories were Advertising/Commercial/Retail, AV/Corporate/Explainer, Cartoons/Animated Characters, Audiobooks and E-Learning/Educational, however almost 70% of all searches done on the site did not have any preference. Want to get found more often in searches? Upload a demo in these popular categories and expand your reach in the search engine.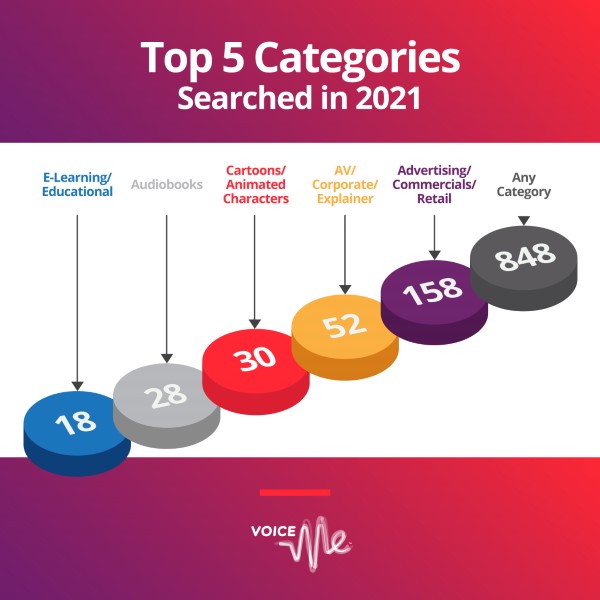 Our Top 20 Keywords also came as no surprise, with brand and corporate messaging in 2021 keeping positive and fun.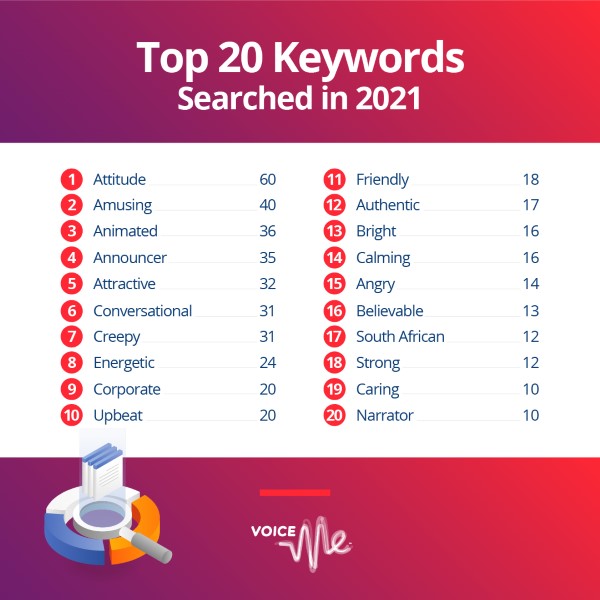 All in all, a successful 2nd year in operation for us and I look forward to working with more artists, agents, clients and studios in 2022!